World of Beer tonight!
December 6th, 2014 by harvey

WORLD OF BEER – TONIGHT! Last minute date change, folks. We were scheduled for 12/19, but we're switching with another group and playing TONIGHT! See you there, Albany.

https://www.facebook.com/events/386413268190247/
Mo-VeLMAs!
November 6th, 2014 by harvey

Hey, it's "Mo-Velmas" (like "November", get it?)! We're celebrating this fortuitously bad pun of a month by seeing if we can make it through EACH DAY OF NOVEMBER posting something you may not have heard or seen before from The VeLMAs.  Check out the FB event for more info!
Aaron's Irish Pub!
April 18th, 2014 by harvey

Gloversville Velmites, see you at Aaron's TONIGHT!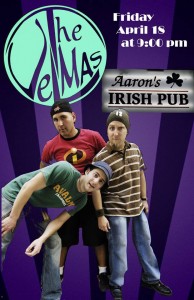 Free Song!
January 9th, 2013 by harvey

Happy new year, Velmites! Want a free song? Here is a free song from our album Station: "Would It Matter".

It's a mellow tune featuring Bruce on vocals and some nice acoustic guitars. Sit back, have a drink (your choice), and listen.

Just click here and you can download the MP3 for free:

http://apps.facebook.com/reverbnation_ap/thevelmas_3230032_184778

Please share this and help us get this song heard!
Harvey's CRUMBS Interview
June 23rd, 2012 by harvey

Mike/Harvey was interviewed by CRUMBS recently and talked about his new solo album, The Velmas, and Above The Flood. He performed a couple songs solo acoustic, including a brand new song "So Long" as well as "Without You" from Blue Skies Black. They also spun 2 tracks right from the album, "Fish in the Sea" and "Status Quo".

The interview is available as a free download or stream here: http://crumbs.net/cafe.cfm?season=11#152
(see all news)
The Velmas are a
City Canyons Records artist.

Site © 2012 The Velmas. All Rights Reserved.
THE VELMAS is a federally registered trademark.